Data Loss Advice

Business

Home User

About Nationwide DR
"When my hard drive ceased to function, the IT department declared it as dead, they recommended data recovery. I spoke with several data recovery firms but decided to send it to you guys as you eased my fears over the telephone and offered a great sounding service. A great service is exactly what I received! I received the evaluation results in double quick time and all my data within 48 Hrs of approving the recovery. A truly excellent job!"
Pankaj Jain
Operations Manager
Hutchison 3G UK Limited
Data Recovery Facilities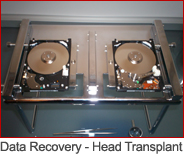 Nationwide Data Recovery experienced engineers operate a fully equipped, secure, certified clean air laboratory and ESD compliant electronic workshop.
Our engineers have access to the latest state of the art hard drive technology, and healthy inventory of spare parts onsite.
Nationwide Data Recovery has healthy relationships with many hard drive suppliers; we are able to search a worldwide inventory of over 3 million spare parts.
These factors enable us to give our clients the very best opportunity to recover their data.